VDI-Z: Krebs & Riedel cover editorial with focus on gear applications
The specialized magazine VDI-Z reports about 125th anniversary of KREBS & RIEDEL. In addition, the focus of the article is about gear grinding applications. For this purpose, KREBS & RIEDEL provides proven grinding tools for virtually all types of machines, when it comes to continuous generative grinding, profile grinding, gearshaft grinding and bevel gear grinding. The VDI-Z addresses engineers in the fields of mechanical engineering, automotive construction and their suppliers, especially technical management, production managers and specialist engineers.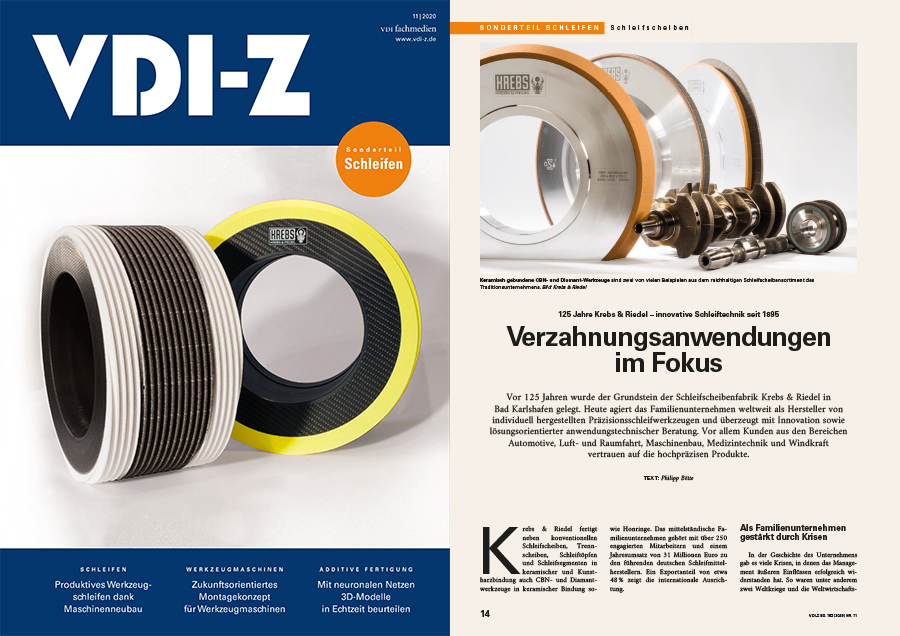 GoGreen certificate of 2019
In 2019, we offset a total of 5.33 t CO2 emissions with climate-neutral GoGreen products and services.
Krebs & Riedel again receives seal of approval: Innovative through research
Since 2014, the Stifterverband has been honouring research-based companies with the "Innovative through Research" seal in recognition of the special responsibility they assume for the state and society.
The Stifterverband is one of the largest private science sponsors in Germany. In addition to its commitment to young academics, excellent universities and top-level research, it is also responsible for investigating and evaluating the German research and innovation system. How much does industry invest in research and development in Germany? What impact does this have on the future viability of this country? These questions are the focus of the R&D survey that the Science Statistics Unit of the Stifterverband conducts annually on behalf of the Federal Ministry of Education and Research.
New Flyer
Disc grinding with KREBS & RIEDEL
KREBS & RIEDEL KREBS & RIEDEL produces modern disc grinding wheels with an outer diameter of 400 to 1500 mm of diamond and CBN
in vitrified bond to generate efficiently flat surfaces, high quality and tolerance for a multitude of different materials.